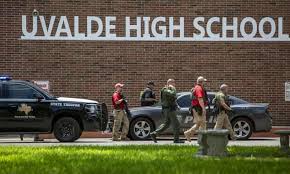 Fourteen children and one teacher have been killed at a shooting at an elementary school west of San Antonio, Texas, the state's governor said on Tuesday. Texas governor Greg Abbott said Salvador Ramos, an 18-year-old male resident of the city of Uvalde, had entered Robb Elementary School and opened fire earlier in the day. "He shot and killed horrifically, incomprehensibly, 14 students and killed a teacher," Abbott said at a press conference on Tuesday afternoon. "Texans across the state are grieving for the victims of this senseless crime and for the community of Uvalde," Abbott said in a statement.
He was shooting everybody," the official said.
The suspect, who was wearing body armor, exchanged fire with law enforcement officials and multiple officers were shot, the official said. The suspect was eventually fatally shot on the scene.
Texas Governor Greg Abbott said the shooter was an 18-year-old male who resided in Uvalde, which is about an hour and a half west of San Antonio. He said the suspect, who he named as Salvador Ramos, abandoned his vehicle, then entered the school with a handgun and possibly a rifle and "horrifically, incomprehensibly" opened fire.
Texas School Shooting