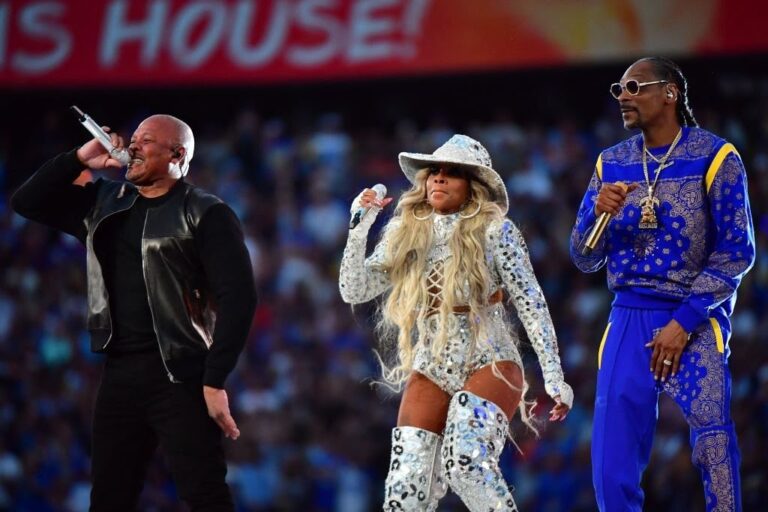 Dr. Dre led the proceedings and made his grand entrance behind a DJ booth atop a stage of white buildings, including a digital rendering of Los Angeles, to introduce Snoop Dogg, who opened the musical performances with a PG-rated performance of his hit "The Next Episode." The rappers then came together to perform "California Love," paying tribute to fellow California rap icon Tupac (but without the famous hologram from their 2012 Coachella set).
Among the most-memed moments was 50 Cent's surprise guest appearance. The 46-year-old rapper performed upside down, seemingly a nod to his 2003 music video for "In Da Club." But viewers thought 50 Cent looked more like Spider-Man while he was hanging in the stadium.
The show itself was one of the best as Snoop Dogg, Dr.Dre, Eminem, Mary J Blige and Kendrick Lemar took to the stage – with a special guest appearance thrown in.
SUPER BOWL HALFTIME SHOW REACTIONS
That halftime show was made for those who recognize these items. pic.twitter.com/iTDN2Yqp8Z

— Matt Viser (@mviser) February 14, 2022
Tariq seeing Kanan and Monet performing at halftime pic.twitter.com/H9nkelREPE

— Jasmine (@JasmineLWatkins) February 14, 2022
Every 39-year old explaining to their kids why that half-time show was the greatest of all-time. #PepsiHalftime #SuperBowl pic.twitter.com/gw0BaSXY31

— Courtney Theriault (@cspotweet) February 14, 2022
50 CENT AT THE HALFTIME SHOW AND HE DID THE UPSIDE DOWN IN DA CLUB INTRO 😭😭😭😭 5TH GRADE ME IS THRIVING RIGHT NOW #SuperBowl pic.twitter.com/OWJA5zpoe3

— Smitty Werbenmanjensen (@ChrEEstosK) February 14, 2022
Can we get a halftime show part 2 #HalfTimeShow pic.twitter.com/JOuCqctBHu

— PettyWise 🎈☕️ (@GinNoJuice__) February 14, 2022
Seeing 50 Cent surprise appearance at halftime show had me like.. #HalfTimeShow pic.twitter.com/1CEaSCryxY

— VatoJonnyyyy✌🏼 (@torito3365) February 14, 2022
That was an amazing halftime show! #SuperBowl #HalfTimeShow #50cent pic.twitter.com/HabgyZrrjF

— Star Wars Culture Podcast (@SWCulturePod) February 14, 2022
Gen X after that Halftime show pic.twitter.com/1ZNvFfXruR

— Andy Bowers (@evilpez4) February 14, 2022
Nobody:

Kendrick Lamar's dress code to the half time show:#SuperBowl #HalfTimeShow #KendrickLamar pic.twitter.com/uUEWBfXqee

— Max Wheddon (@maxwheddon1) February 14, 2022
No one:

The Superbowl half time dancers: pic.twitter.com/ct0e2BJOlH

— ♣️ (@clsdapp) February 14, 2022
Gen X watching the halftime show realizing it's going to piss off Boomers AND Millenials. pic.twitter.com/LsHNVDgl4x

— Ennui Cavill (@LaqueefaTeen) February 14, 2022